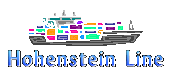 We offer Regular Full Container Load Service from New York, Baltimore, Norfolk, Charleston, Savannah, New Orleans and Houston to Ports and Inland Points in the United Kingdom, Continental Europe, Scandinavia, Africa, Mauritius, Indonesia, and AustralAsia. Intermodal Rates from U.S. Inland Points are also available.
We also weekly sailings for Full Container Load shipments from Savannah, Norfolk, New York, Los Angeles, Seattle, Oakland and Long Beach to Hong Kong, Kobe, Xiamen, Yantian, Yokohama, Shanghai, Dalian, Qinqdao, Xingang, Ningbo, Fuzhou, Huangpu, Lianyungang, Manila, Singapore, Bangkok, Jakarta and Port Kelang. Intermodal Rates from U.S. Inland Points are also available.
Oncarriage service is available to Osaka, Quanzhou, Shantou, Changsha, Chenglingji, Chongqing, Nanjing, Nantong, Wenzhou, Wuhan, Wuhu, Yueyang, Zhangjiagang, Zhenjiang, Yangzhou, Taizhou, Changshu, Xinfeng, Xintang, Xiaolan, Sanshan, Huada, Lianhuashan, Nansha, Beijao, Foshan, Jiaoxin, Jiangmen, Zhuhai, Taiping, Machong, Jiujiang, Xinhui, Taishan, Sanshui, Gaoming, Heshan, Doumen, Wanzai, Macau, Yangjiang, Zhaoqing, Liudu, Yunfu, Qingyuan, Haikou, Wuzhou, Beihai, Fangcheng, Rongqi, Zongshan, Chiwan, Mawan, Shekou, Zhanjiang, Sanbu, Semarang and Surabaya.
Less than Container Load Service is available from Ports and Points across the U.S.A. to Ports and Points around the Globe including Central & South America, the Middle East, Africa, India, Pakistan, Sri Lanka, the Canary Islands, Mediterranean, Australia, New Zealand, the Far East, Southeast Asia, and the Philippines.
We are also Marine Insurance agents. Contact us for a highly competitive quote on your next shipment, whether you ship it with us or not.
Last Updated: September 1, 2001